Please take note: We strongly encourage you to READ the blog post in its entirety and to follow the suggested links. We cannot offer any individual assistance via the comment thread or other social media outlets. ALL the information you need for a successful application can be found in the blogpost and the relevant pages on Teaching Affairs and Student Services.

How to get started
"I would like to study at your University. How can I apply?" This is one of the most frequently asked questions we receive on Facebook.
It is not easy to give a concrete answer as the eligibility to study at our University varies greatly depending on whether you are a citizen of the European Union or of another country. It also depends on the degree programme you are interested in. Please read this blog post CAREFULLY and keep in mind that we cannot guide you via social media!
Also keep in mind that the processing of international applications will take at least 12 weeks. Unfortunately this often collides with the duration of visa applications, which results in missed deadlines. For students who already fulfill the language requirements, we therefore recommend to apply at latest by JULY 15th!
Generally, we recommend the website of Teaching Affairs and Student Services, which should always be your first point of contact for all questions regarding admission to the University of Vienna.
To make things easier for you, we have collected FAQs for international applicants wishing to study at our University. An additional 5 step guide to applying at the university can be found here.
1.      What programmes can I study at the University of Vienna?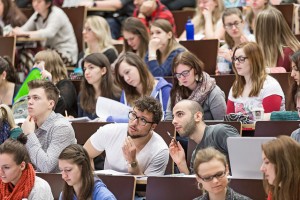 All degree programmes (bachelor, master, PhD/doctorate) at the University of Vienna can be found here.
Note: The University of Vienna does not offer medical programmes (med school, dentistry). These are offered at the Medical University of Vienna.
2.      How do I apply for a specific programme?
Information on how to apply for bachelor's programmes can be found here.
For master's programmes check out this page.
PhD and doctoral programme requirements are here.
Follow the respective links for the programme you are interested in. There you'll find information on the different documents necessary for application as well as requirements depending on your citizenship (EU/non-EU countries).
An overview of information for applicants with school leaving certificates from non-EU/EEA countries can be found here.
How to deal with agencies offering to process your application:
The University of Vienna does not cooperate with agencies,  who offer to process students' applications and does not have any cooperation agreements (except for exchange programmes such as ERASMUS). If you are interested in studying at the University of Vienna, you have to personally apply for admission. If you apply for admission as a non-EU/EEA citizen or without EU/EEA secondary school-leaving certificate/higher education degree, you will receive a Zulassungsbescheid (official notice of admission) upon admission. With this document, you can apply for a student visa. Please consult the responsible Austrian representation (embassy/consulate) to find out if you have to meet any further requirements. Since the University of Vienna does not cooperate with agencies, we recommend using their services only after careful consideration.
Programmes with entrance examination
Please keep in mind that for some programmes the study places are limited and if you are interested in studying them you have to take an entrance examination. There might be entrance examinations for bachelor's, master's and PhD/doctoral programmes. You can find all information on the entrance examination, the application as well as all deadlines here.
3.      Do I need to be able to speak German if I want to study at the University of Vienna?
All bachelor's programmes require German proficiency at level B2 according to the CEFR.
Further information on how and where to gain your German proficiency can be found here.
Some master's programmes are offered in English.
In case of PhD/doctoral programmes the Director of Studies (Studienprogrammleitung) decides whether the programme is provided in English.
4.      How much are the tuition fees?
In general, the tuition fees amount to € 363.36 per semester or € 726.72 for some non-EU/EEA nationals. Apart from this amount, you will also need to pay the Students' Union fee including insurance (€ 19.20 per semester for the academic year 2015/16). This means a total amount of either € 382.56 or € 765.12 per semester.
Citizens of EU/EEA countries do not have to pay tuition fees while studying within the standard duration of the degree programme plus two additional semesters. Read more about the amount of the tuition fees here.
Scholarships
The University of Vienna itself does not offer any wide ranged funding options. Our University grants achievement scholarship to students already studying at the University of Vienna. More information regarding this matter can be found here (Information available only in German).
Here you find a list of all scholarships and grants offered in Austria.
5.      How can I finance my studies in Vienna/Austria?
Whether or not you are allowed to work in Austria depends on your nationality, the kind of employment you would like to obtain and – for citizens of non-EU/EEA countries – also on your residence permit.
Please read here more about working in Austria.
Some general information about studying and living in Vienna can be found here.
6.      I cannot find what I am looking for, please help me!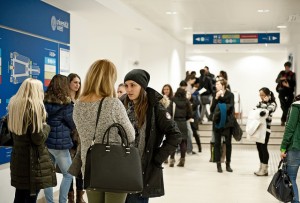 Make sure that the University of Vienna is actually able to provide you with this information. For example: If you are looking for a programme that we do not offer, we cannot inform you on this programme's application procedure (e.g. medical school).
Please read all information on the web pages thoroughly before you contact the Student Point staff. Use the search function on the Teaching Affairs and Student Services website. If you do not get the information you are looking for, please contact Student Point via phone: +43/1/4277-10600 or e-mail: english.studentpoint(at)univie.ac.at . There is generally a high volume of e-mails and calls, especially short before deadlines and you may have to be patient.
We're looking forward to welcoming you soon as a student at the University of Vienna. :)