Dear exchange students,
on behalf of the departmental coordinators I would like to give you a very warm welcome at the University of Vienna.
I am an anthropologist, and when anthropologists are asked to contribute they usually tend to tell a story, often from personal experience, and departing from that story they draw wider conclusions, and in this case also recommendations. So please allow me to become a bit personal now:
As you might have guessed, I once was a student myself – I studied at Humboldt University Berlin – and during that time I was also an exchange student. I went to Poznań, Poland, twice; first with the TEMPUS program in 1998 and again with ERASMUS in 2000, when I conducted ethnographic field research for my MA thesis among Polish anarchists and alternative people in and around a squatted house in Poznań, "Rozbrat".
When I came to Poland as an exchange student for the first time, I did not speak Polish at all, besides the usual "thank you, good bye" and the like. Going to Poland was a huge personal challenge, since as a German I was not, the least to say, unimpressed by stereotypes about Poland and the EAST in general. In fact I was often asked by friends and family why on earth had I chosen Poland as a destination and not some nice warm country with a language where I could make myself understood.
It was actually my luck that there were very few exchange students in Poznań at the time, and I lived in a dormitory where few people spoke English. Both the Polish students and also later the anarchists, whom I researched, quickly and, I have to add, very patiently, integrated me, both in linguistic and in social terms.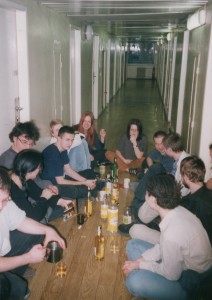 These two stays in Poznan have had a huge impact on my personal life and on my academic career alike. Poland has been with me ever since, e.g. as a language which I learned to love, but which also keeps getting more and more complicated the more I learn. Polish society, politics, and culture have become one of my main fields of research. And, finally, Poland also means friends and memories; it means places to visit as a tourist and places to come back to.
So here are my recommendations:
Do not only stick with your ERASMUS colleagues, but step outside these circles, even if it seems to take quite an effort at times.
On the other hand, keep in mind that fellow ERASMUS students are indispensable for joint complaints and whining about Vienna, Austria, or life as an exchange student in general.
Engage with the locals. Get to know life in Vienna from the perspective of the locals, or, as one famous anthropologist once put it, try to see the social world around you from the native's point of view.
Learn their language, even if it seems insurmountably difficult and unnecessarily complicated. It is language that gives you insights into a world that otherwise is hardly accessible.
And, of course, you will get to know a different academic culture, and you will learn many things about your field of study that are taught differently or maybe are not taught at all at your home university. Whenever you encounter difficulties during your studies at Vienna University, there are of course the coordinators at your department who are more than happy to help.
But to be honest, and don't tell that to your professors at home, ERASMUS is not so much about studying. It is about experiencing the world around you, beyond your usual doorstep, and it is about questioning and contesting the taken-for-granted realities.
First and foremost it is about learning something for and about yourself.
Having said that, I want to wish you once more a warm welcome and a wonderful, exciting, and stimulating stay in Vienna.