The first professor of economic affairs was appointed in 1763 as part of the University of Vienna's legal faculty. Today the Faculty of Business, Economics and Statistics is one of 15 faculties of the University of Vienna and is located at Oskar-Morgenstern-Platz.
Approximately 5,000 students study business administration, international business administration, economics, and statistics. The faculty building offers larger lecture halls, smaller seminar rooms, a library, pc-labs as well as its own dining hall.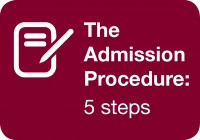 The study programmes business administration (BA), international business administration (IBA) , economics, and statistics offered at the University of Vienna are affected by entrance examinations, taking place one time per acadamic year.
1. Online Registration
The online registration is possible until May 17, 2016. The registration/exam fee is EUR 50. Further information can be found under wiwi.univie.ac.at. The university entrance certificate (Matura, Abitur) is not necessary for the registration.
2. Online Self-Assessment
The online self-assessment (OSA) must be completed by May 31, 2016. We recommend to take it right after your online registration to make sure you don't forget it. The OSA is in German.
3. Subsequent Online Registration
In the case that less people have registered than available study places exist, then you have the possibility to register subsequently, but only if you have already registered for Business, Economics and Statistics at a different Austrian university by May 15, 2016.
4. Written Entrance Exam
The written entrance exam will take place on July 12, 2016 and is in German. The results will be announced approximately three weeks after the exam via e-mail. You will be informed where the exam will take place as soon as possible.
5. Personal Admission
Participation in the entrance exam procedures does not replace the personal admission at the University of Vienna. For this reason all necessary documents
university entrance certificate (and if necessary a certified translation thereof)
passport or identity card
passport picture
proof of proficiency in German level B2 / 2
must be handed in to the admissions office until September 5, 2016 after successfully passing the entrance exam. This is the only possibility to start your studies.
Questions?
StudentPoint is the place to refer to when confronted with general questions regarding the University of Vienna. Questions concerning administrative issues regarding all forms of economic studies at our faculty can be directed at the StudiesServiceCenter team.