Gareth Clay is a Senior Lecturer in Physical Geography at the University of Manchester, UK. Between June and November 2018, he is an Ida Pfeiffer Visiting Professor working in the Department of Geography and Regional Research at the Faculty of Earth Science, Geography and Astronomy. In his blog post, he talks about moving to a different country, re-learning German, and exploring the local countryside.
Why Geography?
Ever since I was a small child, I've been interested in the natural world, whether this was playing outdoors at our local park or fossil hunting on the beaches with my family. However, I never planned on becoming an academic or studying geography. Instead as a child I'd always been fascinated with aeroplanes and had planned to take up a career in aeronautical engineering.  It was a summer school when I was about 16 that changed all that. The summer school was encouraging people into the sciences and as part of it was got to go and visit the Camborne School of Mines in Cornwall, UK. We got to see first-hand how geological knowledge was combined with technical expertise to extract minerals and other important resources. I think this was where my career in Earth Sciences and Geography really started.
I studied Geology at Durham University for my BSc and really got into sedimentology and structural geology. For my final year bachelors dissertation I looked at the geological structures of the Kaikoura Penninsula, South Island, New Zealand. I was all set to head into a geology-based career, but a PhD position (also at Durham University) became available looking at the impact of fire as a management tool on carbon cycling in peatlands and moorlands in the UK. Growing up close to the North York Moors, which contains one of the largest expanses of heather moorland in the UK, I was aware of some of the issues around how this landscape was managed. So although it was a different direction to what I'd originally planned, I was keen to explore PhD life and environmental sciences. Another example of where my career went in a slightly different direction to my plans!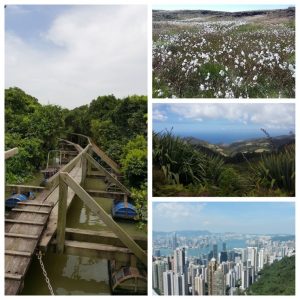 Following a three-year post-doctoral position at Durham after my PhD, I moved to the University of Manchester in 2012 to take up my first Lecturer position. I continue to work on carbon cycling in peatlands and the impacts of fire on ecosystems, but I have broadened my research to include green infrastructure in cities, restoration of rare ecosystems on the island of St Helena, and biogeochemistry of sub-tropical mangroves in Hong Kong. A wide ranging set of projects, but all come together nicely under the Geography banner.
Why Vienna and who is Ida Pfeiffer?
For several years now, I have been part of a team of researchers who have convened a session entitled "Peatlands and the Carbon Cycle" at the European Geosciences Union General Assembly. This is the largest conference for geoscientists in Europe and a great opportunity to present work and to hear about latest advances in the field. One of the co-convenors of the session is Prof. Stephan Glatzel, Department of Geography and Regional Research, who suggested I apply for a visiting position here in Vienna.
The Faculty had a number of visiting professorships named after Ida Pfeiffer, a 19th century Viennese women who was one of the first female explorers and who contributed greatly to a number of areas of geographical thought. A traveller and travel writer, she was unable to hold an academic position at the time due to her gender. Given the Faculty's interdisciplinary activities that all touch on 'Exploration' I hope Ida Pfeiffer would be happy about these visiting positions.
I applied for the position not really expecting to be in with any real chance. I thought "there's bound to be lots of people applying" and "they'll all be better than me", so I didn't hold out too much hope. However, I was lucky to be appointed to the position, and started at the beginning of June 2018.  It is certainly a privilege to be awarded this role at this stage of my career, and as someone who still feels like an imposter in academia, I hope that I can make the most of the opportunity.
First impressions of Vienna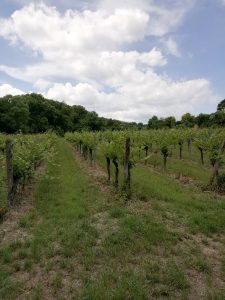 I've been coming to Vienna each year for the EGU conference since 2008 (I think I've only missed one in the last ten years) so I know the city a little bit – navigating the U-Bahn gets easier each year (though I still get confused with some of the entrances/exits!). However, this conference is only for a week in April each year so there is so much more to the city that I knew I would have to explore.
Despite my regular visits to the city, I had not visited the University of Vienna prior to arriving in June. I hadn't really considered just how big the University is compared to my home institution – the University of Manchester has about 40,000 students, whereas the University of Vienna has over twice that at 94,000 students! My first impressions of the University were very good, especially of the older buildings in the center of the city. I'm based up at UZA II so don't get to work in the older buildings unfortunately, but it does mean that I am close to all the laboratories I will be using during my visit.  One of my first tasks in my first week of arrival was giving a talk to the entire Faculty at the annual BBQ – a daunting task having just arrived! It was good to meet colleagues from across the Departments, and I hope that I can make links across some of the diverse areas of research in the Faculty.
I arrived from Manchester in June to the unseasonably high temperatures here in Vienna and thought "I'm going to melt if this keeps going all summer!", but thankfully it cooled a little from those first few weeks and I've slowly gotten used to the warmer temperatures to the UK.  I'm living in the 19th district whilst I'm here and I have to say that this is a part of the city that I didn't really know much about before coming here. I'd been to a Heuriger or two during previous visits, but never really got to go walking in the hills or cycle down the Danube.  I would highly recommend that anyone visiting the city for a holiday should go and explore the outer districts near the Vienna Woods.
It's now about eight weeks into my visit and there are a few things that I would recommend to any new colleagues moving to Vienna:
Brush up on your German – I learnt German at school and did OK, but that was a long time ago and whilst basic German is fine to order and ask for things, if people ask me questions back, I get stumped! I'm trying to re-learn German with 'Colloquial German' complete with audio tracks and exercises. However, it's going slower than I had planned, though Google Translate has been a life saver at times!
Packing – really check the typical weather for when you are visiting. I got caught out in those first few weeks and had to go out and get more shorts!
Get used to walking (so have some good shoes!) – Vienna is a small enough city that you can walk most places really easily. Even if the public transport connects two locations, it can sometimes be quicker and more pleasant to walk between places. I'm attempting to explore a new part of the city each week on foot to try and join up my mental map of the city.