I started my PhD in Organic Chemistry at the end of 2010 in Germany. One might ask: "why Chemistry?", to which my reply would simply be 'Why not?'. I don't know why, but people are usually so scared of it. Chemistry is like every other branch of science: you need to work very hard and constantly study, but at the same time it's really exciting. You put on your lab coat, safety gloves and glasses and the magic begins! It is somewhat akin to cooking; sometimes it works the way you expected but sometimes not. Then you change some 'spices' and try again. Very often at the end the result is much more interesting and 'delicious' than you ever thought it would be. And the satisfaction experienced after such hard work is indescribable – the "victory" is always sweeter when you suffer a bit.
I work in a very international research group. We have people from all around the world: China, India, Syria, the Netherlands, France, Italy, Germany, Austria, Thailand and Portugal. I am from Bulgaria. It is really great working in such a group. You get to know so many different cultures, habits and ways of thinking, even different foods. Our differences unite us. As in any other research group people are always leaving and new people arrive every year but the nice working atmosphere remains constant. And this is due to the fact that we are more than coworkers, we are friends and sometimes even more, we are like family. We work together and we have fun together. We go on holidays, we go dancing, we cook, and we drink together. One can say that we work hard but also party hard.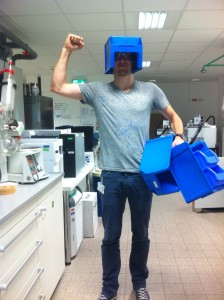 When you are part of such a big and international group you don't feel as a foreigner anymore. Everybody speaks the same language; everybody is trying to help each other because we're all in the same situation. This makes one's life and settling-down in a foreign country so much easier because you know that you are not alone. It is hard to describe it, but you feel like at home even when you are not. At the end, it is the people who matter and not the place. The best way to describe our group is: "One for all, and all for one".
Of course, as everyone else, we face difficulties every day and we go through changes. After 3 years in Mülheim an der Ruhr, Germany we moved to Vienna, Austria. We knew that a move to another country was inevitable (our boss had only a temporary contract for his first independent research position, in Germany) but "where" exactly was a mystery for some time.
Very often we would receive a mysterious e-mail from our boss saying that "we have to discuss important matters related to the group" (a bit serious and scary e-mail at first reading), but then it always turned out to be a spontaneous celebration with a lot of Prosecco and snacks for a published paper, or an award, or a big-money grant for the group. So during these meetings we always tried to get some information about where we would be going next but, alas, without success. We were even betting on the possible destinations, writing on the blackboard the countries we would like to go, dreaming of a lab close to the beach and sun :). Was it us or the Prosecco talking?, but our imagination went wild.
And then one day after the usual e-mail, we finally heard the big news: "We are moving to Vienna". Our boss was offered a full professor position at the University of Vienna and the whole group was invited to move with him. It is hard to explain what kind of thoughts go through your mind at this moment. It was a big surprise since we had started to think that the "moment of the truth" might actually never come. It took some time to realize that it was really happening and we were finally moving. You feel so many emotions – sadness because you are leaving friends and the workplace you grew familiar with, but also excitement for the new start and the unknown. Personally, it was easy to make the decision to come to Vienna. I saw a great opportunity not only in terms of work but also life experience. Vienna as a city is one-of-a-kind. It is beautiful, cosmopolitan, cultural, full of life. Every time when I walk on the streets I have the feeling that I live in a fairy tale. It is so beautiful that it seems unreal.
The moving was a big change for the group and the whole process took some time. The preparation started slowly at the beginning of the year and became progressively more intensive as the calendar pages turned inexorably forward. In September, we stopped working in the lab and started packing. Moving a whole lab is not an easy task to achieve! It is a lot of work but working all together made the process much faster and easier. We were packing but at the same time having coffee breaks, playing kicker, dancing in the lab. At the end it was not only work but also fun. Apart from packing the lab we had to take care of our own flats, start packing there and find a new accommodation in Vienna. The latter turned out to be quite challenging. Maybe the timing made it harder, because the new semester was starting a lot of students were looking for flats. It was hard but at the end everybody from the group found a flat. And now we were ready to leave Germany and start living in Austria.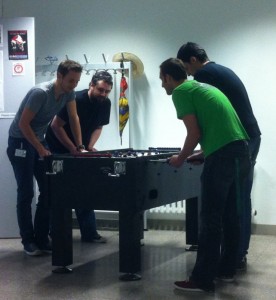 I remember the day we arrived in Vienna. The group was travelling together except our boss who moved there a week earlier. We left Germany with a bit of sadness, some tears and again drinking Prosecco in the train, on our way to the airport. I just realized that it probably seems like we drink a lot! But believe me it is only on special occasions. Anyway, after 80 minutes direct flight from Düsseldorf airport we arrived in Vienna. Everybody was tired and quiet. I still could not realize what was happening. We picked up our luggage from the luggage belt and went to the exit. And then at the arrival gate we saw our boss and our new secretary waiting for us. It was such a great surprise. They were holding posters with the name of the group decorated with hearts and chemical molecules. Our boss looked so happy. It was great to see him there. It made me feel like at home. Everybody cheered up, started talking and laughing. I could not wish for a better welcome in Vienna.
As any new start, arriving in a foreign country is quite challenging, especially if you don't speak the language. Some of us also faced more serious problems related to visa, work permit, signing work contracts. The whole paperwork takes so much time, even simple things such as registration in the University. I should say that the beginning was not easy. We needed some time to organize the new labs and to adapt to the new conditions. In spite of all the difficulties, our life returned to "normality" quite fast. This is due again to the teamwork but also thanks to all the people from the University who were helping constantly. Everybody working there is so friendly and you really feel welcome.
In my opinion everybody from the group is already feeling very comfortable living and working in Vienna. The city is beautiful and we have a great working atmosphere.
As I mentioned before, our group is very strongly connected, not only professionally but also on a personal level. No matter what life offers us next, I am positive that we can handle everything because we work as a team and this is our biggest advantage and our biggest treasure. And of course we would not be the group we are without the big boss: Nuno. We call him by his first name because he is one of us. He is not the typical Professor in of Chemistry with gray hair and big glasses you see in cartoons. He is more or less our age, full of life, ideas and ambitions. He is not just torturing us with chemistry problems but he is also buying us ice-cream in the summer and leaving us cookies (chocolate chip!) on our desks. He is our biggest motivation and inspiration.
I feel so lucky and blessed to know and work with all these incredible people. I am almost finishing my PhD and soon I will leave but I am sure that this is not the end of me being part of this team: Because If you have once been a "Maulidian" (Maulide group member), you will always be one.
And since Christmas is approaching it is time for a Christmas wish. I have the greatest boss, the most amazing colleagues = friends, the best city to live in the world. I really cannot wish for more…
---
Diesen Blogbeitrag hat Desislava Petkova verfasst. Hier gehts zur Forschungswebsite
Gruppenleiter Nuno Maulide sprach am 28. November2013 im Rahmen einer Pressekonferenz zum Thema "Universitäten sind die neuen Zuwanderungs- und Integrationsmotoren"