Scholars have been adopting Web 2.0 tools such as Facebook, Twitter and blogs for their everyday research for some time now: New ways of networked communications emerge and result in an expansion of the current culture of communication, publication and networking in academia. Until now, natural sciences have been using social media to a greater extent. However, social media are also gaining ground in the humanities.
On the occasion of my Digital Humanities visiting professorship at the Department of History, master's students attending my seminars are working on the topics of new methods in digital history. Topics include digitisation, science communication and publication in the Web 2.0, visualisation and text mining as well as the impact of the digital turn on the way how we make and write history. Therefore it was reasonable that we are not only discussing Science 2.0 and digital history, and analysing prominent projects but are also testing these methods and tools ourselves. A number of things will only become apparent when you actually use these applications. So we can practise collaborative working methods, science monitoring and the construction of a digital identity and learn about networking, exchange and dialogical science online.
Collaborative minuting in PiratePad
In courses, students collaboratively take the minutes of a meeting in an online file, such as PiratePad, Etherpad or Framapad. These free tools display each author's text in an individual colour. The students can edit in revise the texts in real-time. The authors' collaborative work results in the pad's typical colourful rag rug that originates from the use of different font colours.
In my capacity as teacher I am reading the students' notes and writing notes on my own. Thus I am able to take corrective action, if necessary. The wording used by the students reveals whether they understood the course material or a topic requires a more in-depth discussion.
Collaboratively maintained Twitter account
The Twitter account of the Digital Humanities visiting professorship is: @DH_UniWien
Four students maintain this account and post tweets and news on the topic of digital history under their initials. We can identify tweets from other accounts with the hashtag #dguw15 (abbreviation for the German "digitale Geschichte Uni Wien 2015"; digital history University of Vienna 2015). Tweets from our account and tweets using this hashtag are compiled and stored in a Twitter archive. This enables us to create simple visualisations. We will analyse the data thus collected in our workshop on methods at the end of the semester.
Testing new formats: interviews on Twitter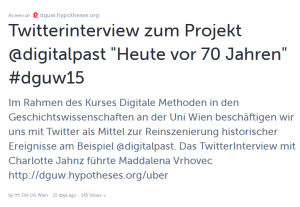 In the Public History methods course the student Maddalena Vrhovec conducted an interview on Twitter: She interviewed the team of the @digitalpast project on their Twitter project entitled "Heute vor 70 Jahren" (today, 70 years ago). Clustered in "islands of events", it tells the stories of the end of the Second World War in Germany on Twitter. Subsequently, this interview was stored with Storify and is now accessible on our blog.
Academic blogging
This brings me straight to the last point, which is our blog. I take this for granted because at my home institution, the Deutsches Historisches Institut Paris (German historical institute Paris), we blog about almost all of our research projects. In cooperation with the Max Weber Foundation, we established the German blog portal for humanities, de.hypotheses.org, in 2012.
This portal is part of a European platform and offers academic bloggers an environment that supports quality. In addition to the free launch of a blog without any advertisements and of a technical support we disseminate the contents via our social media channels. By now the National Library even assigns ISSNs to blogs. Thus blogs have the same status as other serial publications in libraries. This increases their acceptance considerably. It took three years to merge more than 200 blogs on one platform. In total these blogs have more than 70,000 different readers (unique users) every month. A look inside the catalogue reflects the broad range of topics and the diversity of the blogosphere in the humanities.
digitale:geschichte
Our blog entitled digitale:geschichte (digital history) accompanies all of my four courses. Its name incorporates a designation separated by a colon, which is very common for digital projects and tools. It was launched in April 2015 recently. Therefore it is still too early for an assessment. Nevertheless, the first month turned out to be very successful. We measured more than 1,600 unique users on our blog.
We are neither the first nor the only ones who started at blog on history at the University of Vienna. Apart from various historians who are blogging, the En route to a shared identity blog has been online for a long time already. It aims at establishing a network between Central European archives. Also the Austrian Institute of Historical Research maintains a blog and tweets under the name @twioeg, to give but two examples.
Reaching out of the academic ivory tower
Also for practical reasons I use social media in teaching. I have been using social media in research very intensively for some years now. It seemed impractical to use Moodle in teaching and hence to create a parallel universe that is not publicly accessible. When I find an interesting article, for example, I inform my academic community about it on Twitter. If my students are also required to read this article, I would have to additionally send a message via Moodle's discussion forum.
This transfer has proved beneficial for both: Not only local students are interested in seminars on digital history. But also a broader audience can access the literature that we read in the seminars, related ideas and discussions on the blog. It does work well. Not only the number of hits that go far beyond the small circle of seminar participants show this, but also the 14 comments on the post "Der Historiker von morgen wird Programmierer sein, oder es wird ihn nicht mehr geben" (the historian of tomorrow will be a programmer or he will be nothing).
This is a lot of work indeed. On the other hand, it is also fun because you are not bound by academic conventions and can write in a different way; more interesting, diverting, witty contents compared to peer-reviewed articles. Whether it was worth the effort – I will post my conclusion on the blog at the end of the semester…