As a phenomenon that brings together Europeans, there is nothing quite like the Eurovision Song Contest. Held annually since 1956, it is the world's largest popular music competition and now includes entries from almost every European country. It has always been a televised event, and in 2013 it attracted more than 170 million viewers, making it one of the most-watched television programmes worldwide. Eurovision is organised by the European Broadcasting Union, an association of national radio and television broadcasters from Europe and the Mediterranean region. If you are not familiar with the contest, here is a summary of how it functions: the national television broadcasters send a song to represent their countries, and during the live broadcasts of two semi-finals and a final audiences and juries from each of the participating countries vote to select the winner, whose country then earns the right to host Eurovision the following year.
Eurovision is commonly mocked as cultural kitsch because of its over-the-top performances and frivolous song lyrics. Yet, as one of the cultural media that most connects Europeans, popular music has always been intertwined with cultural, economic, political and social change across Europe, which is the academic reason why I research Eurovision. There is a personal reason as well, as I have avidly followed the contest since my childhood in Australia. I grew up in Perth, which is one of the world's most remote cities, and that distance in part made me yearn for different countries and cultures, which I tried to learn more about through learning languages, reading books, listening to music and watching television. When it came to television, we only had a maximum of five television stations when I was growing up, but there was one that remains unlike any other that I have seen. It was called the "Special Broadcasting Service", or SBS, and it developed in Australia in the 1970s and 1980s, first with radio services and then as a television station that broadcast multilingual programmes. It was initially created for Australia's migrant communities, as an element of government policies of multiculturalism. One of the programmes that I most looked forward to on SBS was Eurovision, which was first broadcast in Australia in 1983. I was fascinated by the performances in the languages of the participating countries – for at that time they still had to sing in their official languages, whereas now they are free to do so in any language, meaning that English is usually chosen. I enjoyed the powerful ballads and the lively Europop… I would record the contest on video and watch it again and again and again…
When I was an undergraduate student pursuing a degree in European Studies at the Australian National University in Canberra, I once did a presentation on Eurovision and how it reflected politics in Europe. My professor liked the idea, and with other students studying European languages I was soon organising Eurovision parties at one of the European migrants' clubs in Canberra, where we would watch the show together. Because of the time difference, the contest was shown on SBS on Sunday evening after it had been broadcast live in Europe on Saturday night, and by the late 1990s some of the thrill was lost because by the time it was Sunday in Australia you could already find the results of the contest on the internet. However, having a Eurovision party was still a chance for those of us interested in Europe to get together, debate the merits and pitfalls of each entry and search for some greater political meaning in them, and at the same time laugh at the choreography, costumes and lyrics. Which is a way that many other Australians and Europeans also traditionally like to enjoy the contest.
By the late 1990s I was thus developing an academic interest in Eurovision, tying it with my studies in European history, languages and politics. I began to really focus on it during my PhD at Columbia University in New York City, where I wrote my dissertation on popular music and politics in Yugoslavia from 1945 to 1961. In this I discuss why communist Yugoslavia was the Eastern European country that was most open to Western cultural influences during the Cold War, and how popular music became a major medium for the forging of cultural bonds among its citizens. In this way I also explained why Yugoslavia entered Eurovision in 1961 and was the only communist, Eastern European country that participated in it throughout the Cold War. This was the springboard for my current project on Eurovision, in which I use the contest to examine transnational themes that have defined contemporary European history, such as democracy, European integration and nationalism. I received a Marie Curie Fellowship from the European Commission to undertake this project at the University of Vienna, where my sponsor is Professor Philipp Ther, who has written about opera and nation-building in nineteenth century Europe.
It may seem unexpected that I am researching Eurovision in a city that is more famous as an international capital of classical rather than popular music, but there are many connections between how the two genres have shaped identities within nations and across Europe. And although Austrians are not as crazy about Eurovision as some other Europeans, Austria does have a fascinating Eurovision history of its own. It won the contest once with Udo Jürgens in 1966, which gave it the opportunity to host Eurovision in Vienna the year after. In 1968 the Czech singer Karel Gott represented Austria at the contest, which was highly symbolic as communist Czechoslovakia was at that time experiencing a period of liberalisation known as "the Prague Spring". The following year Eurovision was held in Spain, and the contest was boycotted by Austria because the latter was critical of the dictatorship of Francisco Franco. However, Austria has also used Eurovision to improve its international image in light of political problems of its own. It sent an Austrian-Israeli singer to Eurovision just before Kurt Waldheim became president in 1986, and the multiracial trio Rounder Girls sang for Austria just after the far right Freedom Party joined a national coalition government in 2000 and the European Union applied diplomatic sanctions against Vienna. In recent years Eurovision performers with immigrant backgrounds have presented a more diverse view of Austria than international media reports on the country's politics tend to paint. So again the issue of immigration comes up in my research, having first prompted my interest in Eurovision and now leading me to ask questions about how different it is to grow up as the child of immigrants in Australia compared to Austria.
My project gives me the opportunity to travel around Europe to meet other academics studying Eurovision, as well as fans of the contest and artists who have performed in it. One of the aspects that I like most about my research is that most people whom I meet in everyday situations have an opinion about Eurovision… When I mention that I research it they usually laugh, but then they give me their take on it with a commentary on its political aspects. Which is why I think Eurovision is an effective tool to approach history, because it prompts people to talk about political issues through cultural references that they can widely relate to. This is also why I developed the undergraduate course "Eurovision: A History of Europe through Popular Music", which I am teaching at the University of Vienna this semester to a class of students from America, Austria, France and Ireland who can share different cultural perspectives on the contest.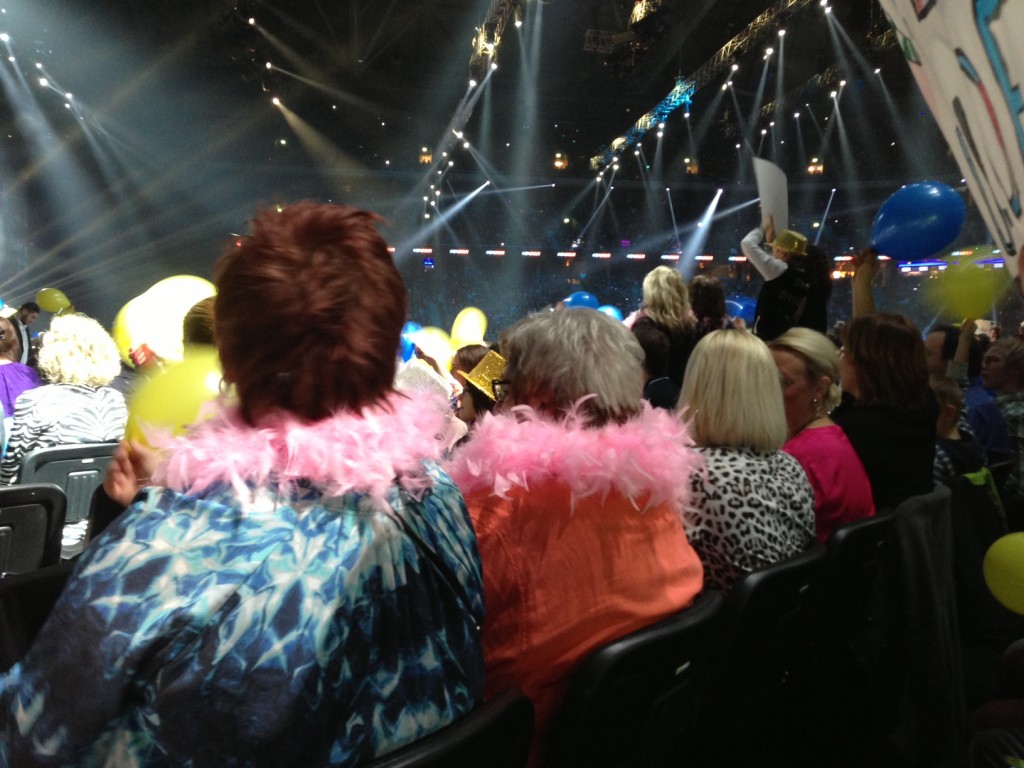 This year Austria is sending the bearded drag queen Conchita Wurst as its Eurovision entry, and she is attracting a lot of media attention not only for her appearance but also at a time when gay rights are being challenged in many European countries. Australia will also send an act to Eurovision: even though it cannot participate in the contest because it is not a member of the European Broadcasting Union, SBS has been given responsibility to organise the interval act for the second semi-final, which will be performed by the Australian singer Jessica Mauboy. In my next blog I will report directly from Eurovision, which will be held in Copenhagen from 6 to 10 May, with more details about the controversies and politics of this year's contest.