Alexander Rinkenburger, M.Sc. has finished his studies in Chemistry at the Technische Universität München and currently works on his Doctoral Thesis "Rußoxidation mit on-line Spektroskopie" (soot oxidation with on-line spectroscopy) under Prof. Dr. Nießner. He participated at the univie: summer school 2015 for Basic Aerosol Science and shares his expierences.
my univie: summer school
If you're joining the aerosol summer school in Vienna, then you probably have something to do with particles/aerosols and you also most likely write your Ph.D. thesis in that field. If you want to gain a better knowledge of the really broad field of aerosols, than this summer school is definitely the right place for you. You'll get an excellent overview and a better understanding of aerosols as well as the latest scientific developments in environmental processes. As mentioned before, most of the participants already work in the field of aerosols when they join the summer school. Nevertheless, I believe that each participant learned something new, since there was a great variety of excellent speakers and participants came from all over the world. This year's summer school had a total of 21 participants from almost 15 different nations such as Germany, Austria, France, Italy, England, Slovenia, Slovakia, Greece, Brazil, Vietnam, South Korea and Tajikistan. It is exciting to meet and get to know new colleagues from such a variety of different countries. It was indeed very helpful to discuss your topics with them and to get new input for your own research.
The organization of the univie: summer school 2015 for basic aerosol science by Professor Horvath was excellent. Lunch and various snacks for the coffee breaks were conveniently provided next to the lecture hall. During the breaks we had the opportunity to talk and connect with the invited speakers, who were leading experts in their fields.
As the summer school takes place in Vienna, you also get the chance to enjoy dinner at various typical Viennese "Heurige" and to try local food and wine.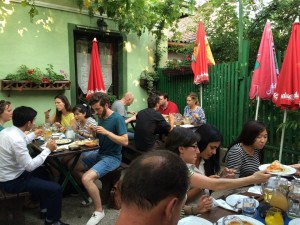 This year, the summer in Vienna was extremely hot – more than 30 °C during the whole week of the summer school. Lectures took place from 8.30 am to 6 pm and one really needed some refreshment in the evening. If there is no planned activity, then you can also enjoy the various restaurants/bars/beer gardens near or inside the university campus and explore the city afterwards. It's also fun to swim in the Danube. Vienna is a really beautiful and lively city with many things to discover, and if you've not been here before, you should definitely spend another weekend before/after the summer school.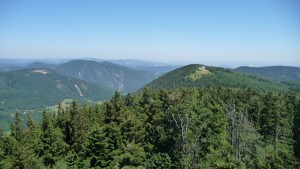 The last day of our summer school was reserved for a field experiment at a nearby mountain – the "Hohe Wand". At the Hohe Wand we learned how to determine extinction coefficients visually, which was a fascinating experience. Afterwards we celebrated the end of our summer school and our "certificates of participation" at another Heuriger in a small town outside of Vienna.
Here you can see the participants of the summer school measuring the atmospheric extinction coefficient with a simple visual comparator at a look out tower on Hohe Wand.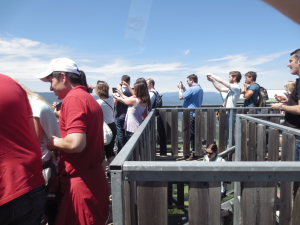 In a nutshell
You can learn "everything" about aerosols from excellent speakers and professionals
Meet colleagues from all over the world
Enjoy the beautiful city of Vienna and its various "Heuriger" restaurants
So the lesson is clear:
Everyone who's interested in aerosol science should definitely join this summer school –you'll certainly have a great time!
---
If you're intrested in participating at univie: summer/winter schools, read here more.