Mariam took part at the univie: summer school for International and European Studies 2018 in Strobl organized by the Sommerhochschule (SHS) of the University of Vienna. In this blog post she tells you about the courses, free time activities and her personal highlights like discovering traditional Austrian music and culture with her new international friends.
Last year I applied for a scholarship and to my amazement, I received a message saying: You have been awarded a full scholarship to attend this year's summer school. Congratulations!!! I must admit, at the beginning, the fact that the summer school was going to last four weeks made me wonder if we would have too much free time there. So, with those thoughts in my mind I even took the necessary books with me to work on my master thesis. But the four-week program turned out to be a very well-organized mixture of high-level European Studies courses, German courses and of course, very professional free time activities.
The scholarship of Mariam was one of two full scholarships financed by a charity activity of the University of Vienna and the Sommerhochschule.
Read more about it in this blog post
(only available in German).
Arrival in Strobl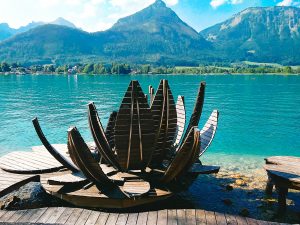 My journey to the summer school started on 14 July 2018. It proved to be perfectly organised from the very beginning, after arriving at the bus stop and being picked up by the SHS shuttle bus. On the next day, the opening ceremony was followed by course presentations. The indescribably experienced professors presented their courses, in which the students could take part, from various fields regardless of the degree the students were studying for. I took part in four completely different courses during the four-week program. Two of my four courses presented European history and culture, others were about European political systems and the rise and crises of the European Union. Besides those courses we were offered interdisciplinary seminars, which were led by our professors.
Summer School Routines
For four weeks our daily routine from Monday to Friday consisted of classes from 8:30 to 12:50. While in the first two weeks after classes we were offered windsurfing courses, in the last two weeks we could take tennis classes. Once a week one of the most popular activities were the incredibly funny dance classes. Hiking on weekends, volleyball, soccer, frisbee and many other activities were part of our daily life as well. Considering the fact that many students were in Austria for the first time, Sommerhochschule Strobl also organized excursions to St. Wolfgang, Salzburg and Ebensee.
My Highlights
Lectures and activities aside, for many of us a wonderful and unique experience was the amazing classical music chamber concert performed by members of the Vienna Philharmonic Orchestra at the St. Sigismund Church of Strobl. Of course, some other unforgettable moments were the traditional Austrian Wiesenfest and Seefest, which were attended by almost all students of the summer school. Some participants even bought Austrian "dirndl" and "lederhose" to make sure to fit in to these great Austrian festivals. Besides becoming familiar with Austrian traditions, we also had the chance to delve into the very inspiring, rich and ancient Chinese culture introduced by Students from China.
Students from all over the world were part of this year's univie: summer school. One of the most important advantages for me and I believe for all participants was the possibility to build new international friendships, which I am sure will last forever.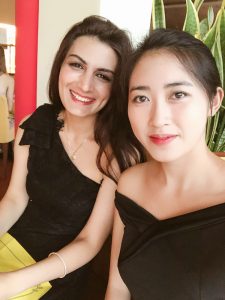 "Auf Wiedersehen but not Goodbye"
The evening of the final Friday, with its fantastic talent show and Midsummer Night´s Ball performed by students (and an unbelievable performance by our amazing professors and their children!) will always stay in my memories. The most emotional part of my time in Strobl was without doubt the closing ceremony. After hearing the closing words of the Director of the Sommerhochschule, Prof. Franz-Stefan Meissel, and of students from China, India, Serbia and Australia, and not to forget, my piano performance, we all got very emotional. The next few hours before leaving were led by tears and promises. Maggie, one of my fellow students and Ana from the SHS team, even wrote a song; "Auf Wiedersehen but not Goodbye".
I believe there are two very important facts that make Sommerhochschule in Strobl unforgettable: Firstly, its incomparable, professional and very kind staff that make everyone feel as if they are in a family environment, and secondly, the breath-taking beautiful Strobl at Wolfgangsee.