Jessica Rutley is studying International Business (BIB) at Carleton University in Ottawa, Canada. She arrived at the University of Vienna on September 1, 2015 to begin the intensive German language course at the Sprachenzentrum and finished her academic year at the end of June 2016. In her blog post she is sharing her experiences and also her tips for visiting students.
The first impression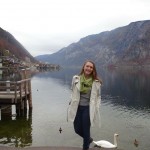 My first impression of Austrians was a positive one. Everyone was very helpful when I asked them for directions or assistance when trying to translate something, but when you go to a restaurant don't be offended by how rude the waiter or waitress may seem. The style of service is very different to that of Australia, New Zealand, or anywhere in North America, so it's best if you don't take offence and just roll with it. The other thing is that people in Vienna specifically tend to stick together and can be a little resistant to making friends with people who are not also from Vienna, but that's completely okay because the city if full of people from all over Austria and all over the world.
I arrived in Vienna on August 29, 2015 and chose to live in a student dorm for my ten-month exchange. I knew that when I arrived in Vienna, I would have a lot of things I would need to do as soon as possible. My list included:
Picking up my residence permit. In Austria, students that are not from the EU and are staying for more than 6 months need to apply for a student residence permit.
Opening an Austrian bank account so that I could pay my monthly rent as well as being able to pay for everyday items without paying an exchange fee from my Canadian bank.
Pick the courses I was going to take for the upcoming semester.
Register with the municipality to say that I will be living in Vienna for the next ten months.
Buy a student transportation pass.
Get my student card from the university. You need proof that you are a student and will be living in Vienna to get the discounted student transport pass.
Get a phone plan.
Buy items I would need for my stay in Vienna, such as pots and pans, plates, cutlery, clothing hangers, hand soap, etc.
When going through the list above, it is very important that a person stays calm and makes a physical list so that they can see exactly what has been done and what still needs to be done. I personally felt that this list was very difficult to complete while trying to adjust to life in Vienna and to deal with the jet lag, but I got through it and everything was really easy after that.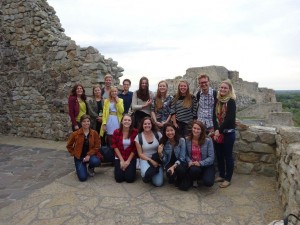 I took part in a month-long intensive German course in September at the University of Vienna Sprachenzentrum and it was a great experience that I would recommend to everyone. It allows students that are new to the city to meet other students that will also be spending the next semester in Vienna and for you to develop basic German skills. I'm still in contact with these students and they really made my time in Vienna amazing and memorable.
In Canada I study International Business and was able to continue these studies at the University of Vienna. I took a variety of courses such as Supply Chain Management, International Marketing, Global Human Resources, eBusiness, Business German, Economic History, International Marketing Strategy Simulation, and a Semester German Course. It was a great experience and I loved my time at the University of Vienna.
I recommend exchange students who only want to come for one semester to come in the second semester because there is so much more to see and do and the gardens (both the flower and beer variety) in Vienna are very beautiful and lots of fun. If you're lucky enough to be in the city during FIFA or the Euro Cup, take full advantage of all the fan areas that are set up around the city to watch the games or just to hang out with friends.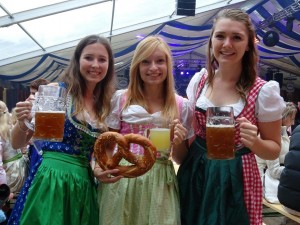 When it comes to food, there is a lovely restaurant at Neubaugasse 52 (about a 10-minute walk from the U3 station Neubaugasse) that serves traditional Austrian cuisine for a very good, student friendly price and most food stands around the city are quite good, so don't be afraid to try them.
Overall, there are numerous opportunities year-round to explore and experience the city of Vienna and I recommend to everyone to go into your time in this beautiful city with an open mind to allow yourself to make the most of your time there.
What every exchange student in Vienna should do
Here is my personal list of things that every exchange student in Vienna should see or experience (in no particular order):
The University of Vienna main building (located right beside the U2 station Schottentor)
Schönbrunn (the palace), the Gloriette and the surrounding gardens.
Kahlenberg for a view overlooking the city.
Museumsquatier
Wiener Wiesn (the Viennese Oktoberfest located at Prater, feel free to wear some traditional clothing such as a Dirndl or Lederhosen)
The Donauturm located on Donauinsel
The Hofburg and the statue of Beethoven in the Burggarten behind the Hofburg
Stephansdom (the huge cathedral in the centre of Vienna)
The Vienna State Opera (you can buy standing tickets to a show for 3 Euros)
Belvedere
The Christmas and Easter markets
Heuriger (a traditional Austrian wine local with homemade food)
The Rathaus (the Vienna townhall)
Parliament (located right beside the Rathaus)
Below is a short list of places outside of Vienna to visit
Bratislava, Slovakia (1 hour by train, it costs 16 Euros for a round trip and it includes all public transportation in the city for the day and is home to the closest Ryanair location)
Brno, Czech Republic (2 hours by bus)
Kitzbühel, Austria (it's famous for skiing in Austria and is only 5 hours from Vienna by train)
Salzburg and Hallstatt (it's one of the most visited places in Austria, 2.5 hours by train)
Budapest, Hungary (2.5 hours by train)
Prague, Czech Republic (4.5 hours by train)
Innsbruck, Austria (4.5 hours by train)
Munich, Germany (5 hours by car, bus or train)
Ljubljana, Slovenia (6 hours by train)
A short list of foods to try while in Austria
Kaiserschmarrn (can be eaten as a dessert or as a main dish because it normally comes in a large portion with plum sauce or apple sauce)
Wiener Schnitzel
Apple or Topf Strudel
Schaumrolle (it's like a cream, but heavier, in a pastry)
Kasnocken (a really heavy pasta dish, typically eaten when spending a day skiing)
Germknödel
Goulash soup
Glühwein (a hot wine drink that is normally served during the holiday season)
Kasekrainer