Inspired by a warm Scottish pub in deep-winter, the Uni-Verse Creative Writing Society at the University of Vienna is a home for authors, crisp-eaters, word-lovers, art enthusiasts, and creative minds from all over the galaxy. Join us (for free!) as a listener or writer at our biweekly meetings. Attend one of our literary events or professional writing workshops. Reach out on social media. Or bottle your best home-brewed fiction and submit it for publication in one of our yearly "Pocket Universe" anthologies. We can't wait to meet you and your words.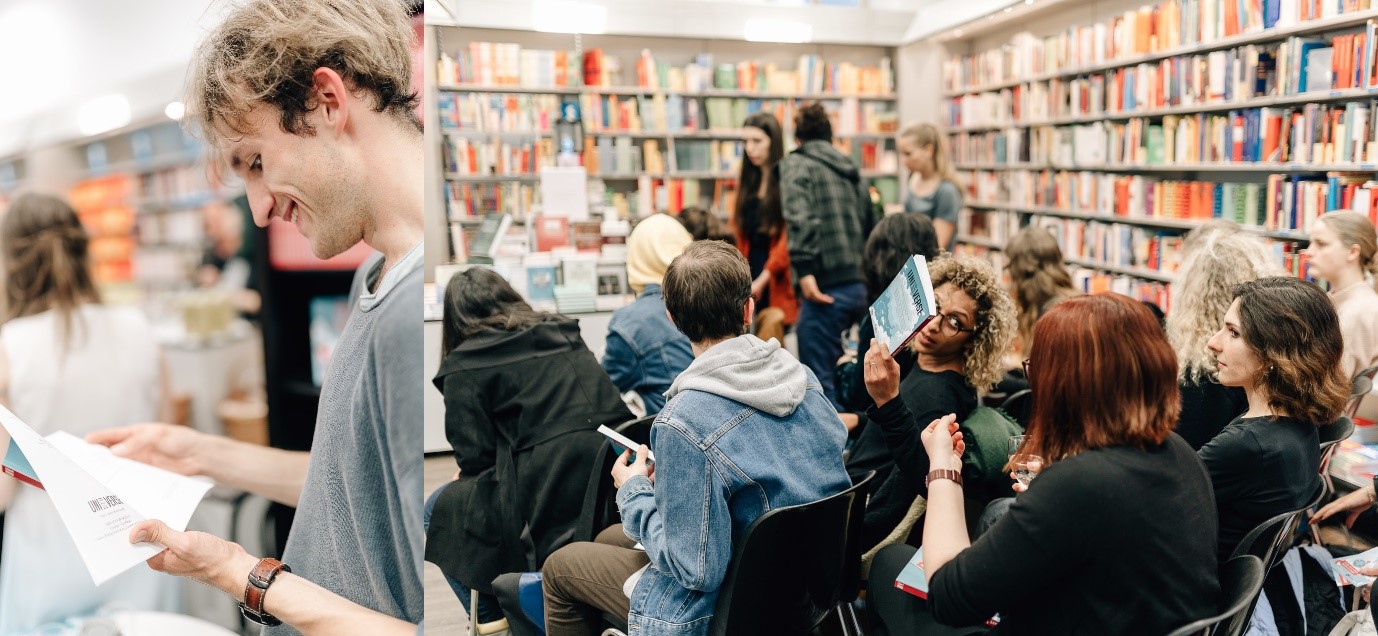 The socials first
While you should not judge a book by its cover, it never hurts to peruse for a taste.
So here's our website, our Instagram, our Facebook, and our podcast.
Intrigued? Then join us for the full tour below ~
What can I do at Uni-Verse?
The Uni-Verse is diverse and vast enough for hopefully everyone who likes to taste words, experiment with writing, and learn from fellow authors (emerging and experienced and everything in-between) to find their place. You also don't have to be a student to join us – or a writer – or a human – or even over 18. Our oldest member was 60-something, our youngest was 5, and our furriest was a sweetheart.
Biweekly Gatherings
During the semester, the Uni-Verse hosts regular biweekly meetings at the Highlander Pub & Garden (Sobieskiplatz 4, see below), for which booklets are prepared in advance and which basically combine the following ingredients: a cosy pub atmosphere, drinks, texts, readings, and 13 minutes of constructive collective feedback for each text presented. You can either send in a text to writing@universe.univie.org (prose or poetry or anything in-between, under your own name or anonymously) or just drop by to listen, have fun, and get inspired. At times, we also host themed meetings, e.g. cemetery walks at Halloween or text swaps at April Fools: in short – opportunities for further writing experimentation out of the ordinary.
Special Events
Occasionally, the Uni-Verse is host to special events, such as "Shut up and Write" afternoons, poetry picnics and breakfasts, workshops with published and award-winning writers (like two-time Fulbright grantee Tara Skurtu, see gallery) and other colour-flavoured experiences, including charades, poetry slams, and open-mic nights. In addition, the Uni-Verse crew has a podcast that features audio-plays, interviews with experienced authors, professors, Uni-Verse members and themed panels.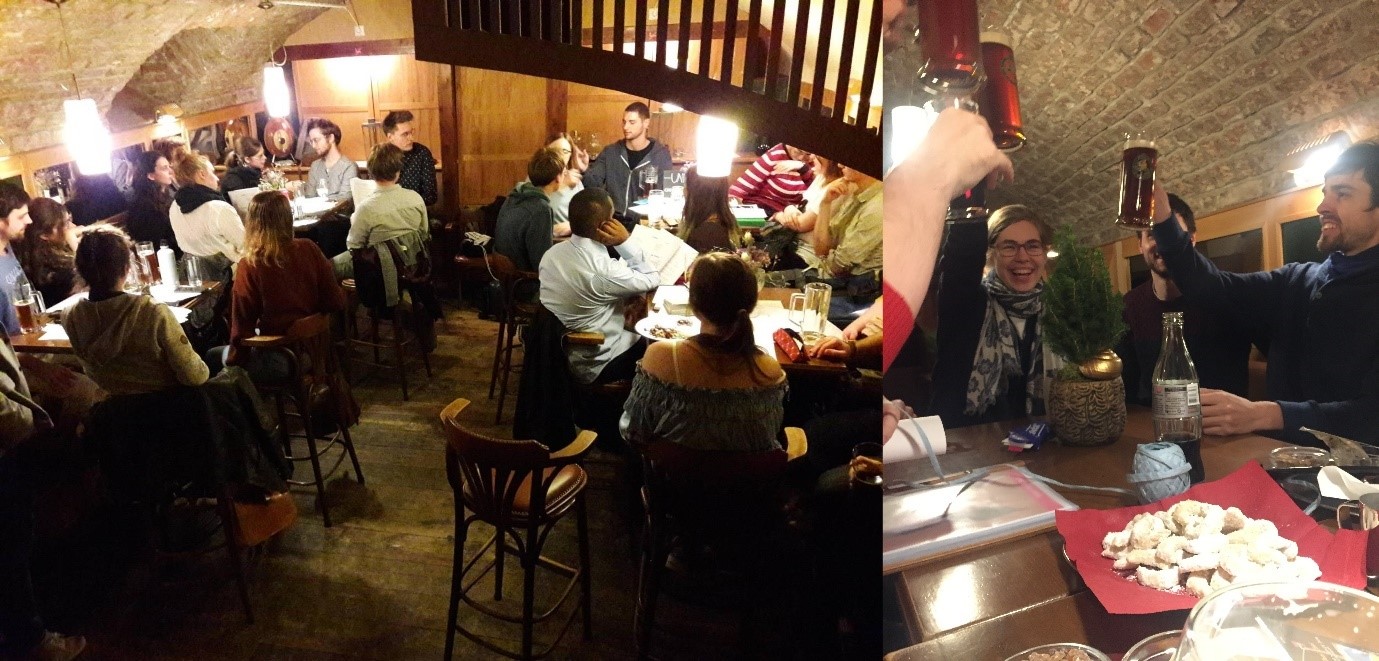 Annual Publications
Do you want to get published? We certainly do! Unless people are all in their Covid-caves (which we hope was more of an exception to the rule), the Uni-Verse publishes an annual anthology of verse, prose and illustrations – an opportunity for all local writers and artists to make their publishing come-back or debut. These "Pocket Uni-Verses" (so far: "beginnings." , "momentum.", and "silence.") are stocked by bookstores all over Vienna, and our next anthology ("nightfall.") will be published soon, in the spring of 2023. Everyone is welcome to submit their best writing or art on our website – even without being a member.
Membership
Talking of: there are four tiers to our membership structure.
All of the above is free of charge for regular members – which you already are, the moment you decide to join us for a meeting.
On top of that, official members (5€/year) bag a subscription to our Vienna-focussed literary newsletter and get to either vote or run for literary office at the AGM (the annual general meeting, in jargon). Should you have a long-term vision of becoming President, Event Organiser, Social Media Expert, Official Muffin Supplier or something else and adding your touch of stardust to the Uni-Verse Committee, this is the place to make your case for it.
Sponsoring members (aka Rich People and Adults with Jobs) choose their own amount of money >30€ to support us each year. They help us finance bigger events and receive a free & signed anthology upon publication.
And last but not least, honorary members are lifetime members who helped shape the Uni-Verse – find out more below.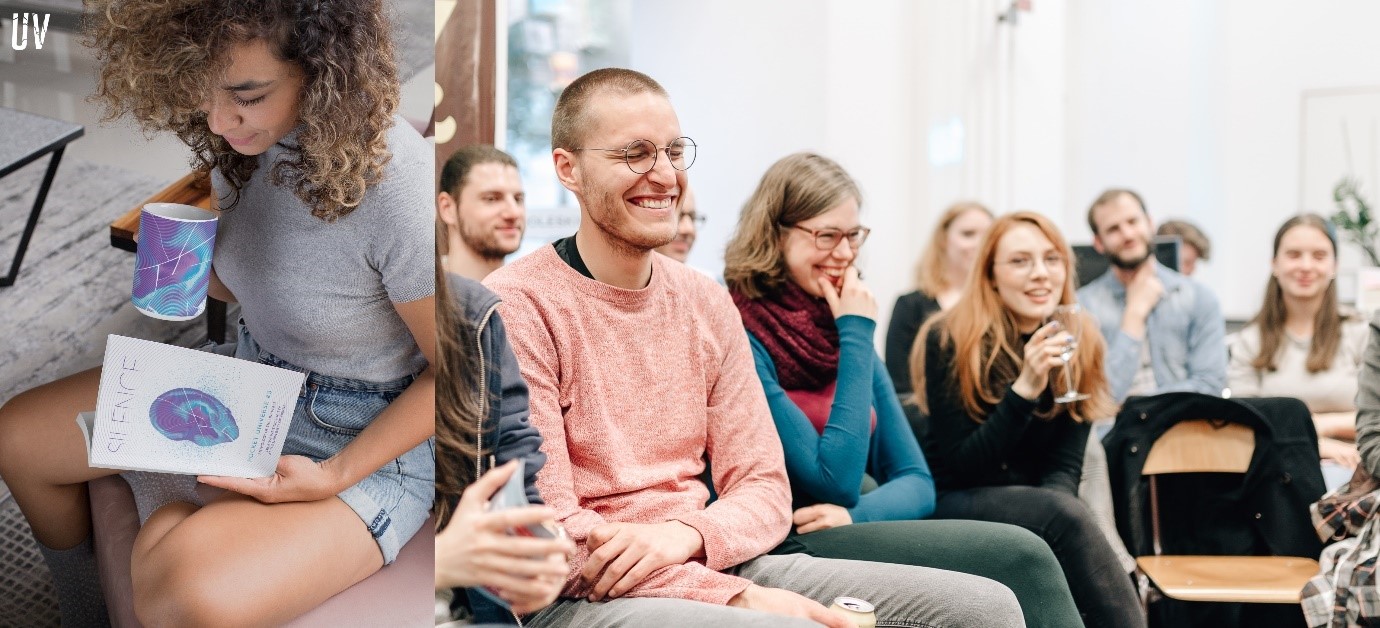 A Brief History of the Uni-Verse
So, how did this all come about? Well, Marie smuggled the idea through customs when she returned from Scotland and the brilliant Aberdeen University Creative Writing Society. And when she sat down next to Livia at the English Department and revealed the baby bird in her inner coat pocket, it turned out that Livia had a passion and a faculty for flight. But this fledgling was not just raised by the two of us.
Our feathery spaceship would never have touched off without the efforts of multiple generations of Committees, brilliant honorary members who lent us their professional and legal expertise, and the most amazing of members. Even our first weekly meeting was well-attended, and it showed us just how hungry people had been for a place to nurture and experience English fiction as a community – and that hunger grew into appetite over the years. One day, we looked around and suddenly found ourselves working with a whole team of incredible minds, organising events, recording podcast episodes, and, of course, publishing our first, then second, then third book. What a ride.
Look back in fondness
Now, is it a bit silly to call yourself "President/Vice-President/Secretary/Treasurer/Event Organiser/… of the Uni-Verse"? Absolutely. Which is why we still delight in writing it in our CVs. So many fond memories are attached to that title – we met expats, immigrants, travellers, professionals, amateurs, art lovers and wild minds from all over the world, heard stories, listened to songs, and read comics we never would have found on our own, and inspired each other to take our works to new heights.
We're proud of the incredible international community that the Uni-Verse has become, and if you're looking for an artistically-minded friend to go to art galleries, movie showings and (of course) readings with, the chances are good that you'll find them here. And who knows? Maybe you'll even be inspired to pick up your own pen and create; whether for the first or the ten-millionth time.
Now, as we say at the Uni-Verse: stay safe in space, traveller, and let there be banter,
Livia & Marie
PS: If you have an idea for a project, a collaboration, or a way that we could improve, please never hesitate to reach out via writing@universe.univie.org.
Short bio
Marie-Therese Sauer was the President of the Uni-Verse Creative Writing Society from 2017 – 2020. She's currently wrapping up her MSc in Cognitive Science, continuing a life-long trend of being interested in brains, books, and bifurcations. You'll soon find her art/work on marietheresesauer.com.
Livia Regen served as the Uni-Verse's Vice-President between 2017 and 2020. After immersing herself in linguistics, cultural theory, environmental sciences and ecological economics, she is now researching social-ecologically responsible energy futures. Snippets of her poetry can be found here: tinystepsinaroomcalled.wordpress.com.